Introduction
"RDP an internal error has occurred server 2016" may be fixed by: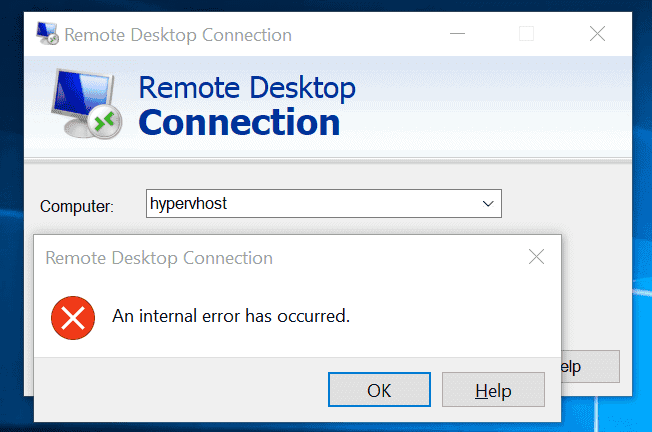 Performing physical inspections
Adjusting the RDP experience settings
Connecting to the server with IP rather than the name.
Options to Fix "RDP an Internal Error Has Occurred" in Server 2016
The 3 options to resolve "RDP an internal error has occurred" in Server 2016 are discussed below:
Perform Initial Checks
Before you proceed to any other fix in this guide, the first step is to check the following:
Confirm that the Server is powered up and you can login to the server from the logon screen.
Check that Windows firewall is not blocking RDP. Use the steps in this guide Check Windows Defender Firewall. The steps in this guide are specific to Windows 10 but it should apply to Windows Server.
Check that RDP is enabled on the Server
Adjust Remote Desktop Experience Settings
Steps to apply this fix:
Type remote desktop into the search bar. Then click Remote Desktop Connection.
At RDP settings, click Show options.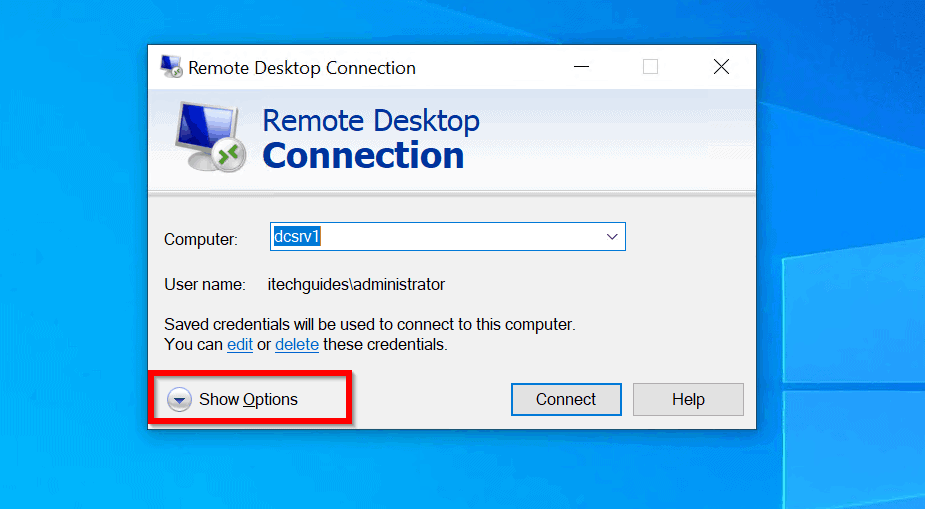 When Remote Desktop Connection options opens, click the Experience tab.
At the Experience tab, Uncheck Reconnect if the connection is dropped.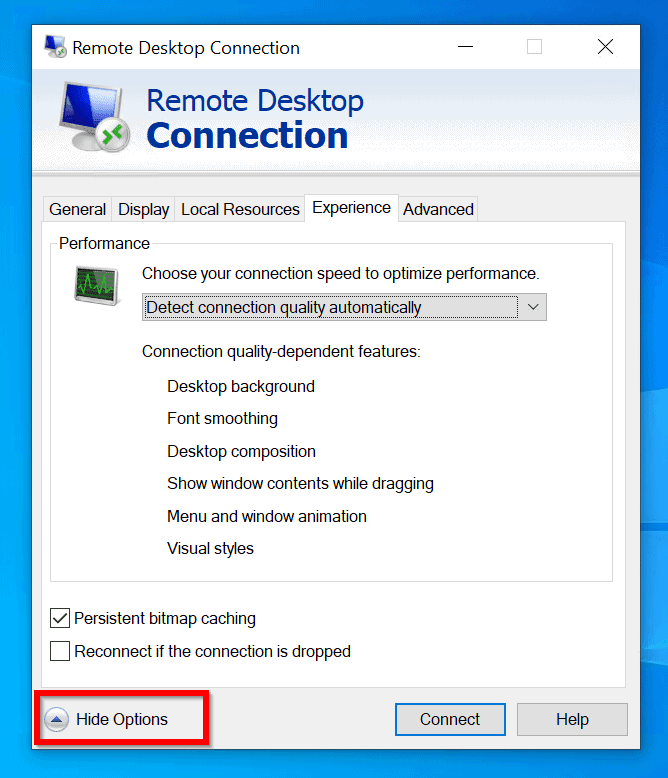 Finally, click Hide options.
Try making an RDP connection to the Server. If "RDP an internal error has occurred" in Server 2016 is still not fixed, try the next fix below.
Ping Server's IP, Telnet to Port 3389, RDP with IP
From my personal experience this RDP error message could be triggered if your RDP client is not able to resolve the server's IP address. Also, if port 3389 is blocked, this may may cause this error.
The steps in this section are for new Windows administrators. If you know how to, ping the server and if it replies telnet to the server's IP on port 3389. Once you confirm that these two are successful, RDP to the server using it's IP address.
If you need the detailed steps, they are dovetailed below:
Open command prompt. Then type the command below to "ping" the server.
ping <server IP>
Change <server IP> to your server's IP address. See the example below.
If the server replies as shown proceed to the next check.
Telnet to port 3389 using the server's IP address. To do this use the command below
telnet <server IP> 3389 
Change <server IP> to the IP address if your server
Telnet is not enabled on Windows 10 by default. To enable telnet: Open Control Panel -> Programs -> Turn Windows feature on or off. Then search for telnet and enable the feature.
If RDP port 3389 is open on the Server, the telnet command will return a blank command prompt window.
If you receive a reply by pinging the server by IP and port 3389 is open, then try to RDP using the IP. Most times this fixes "rdp an internal error has occurred" in server 2016
Conclusion
One of the recommended fixes in this guide should resolve "rdp an internal error has occurred".
It will be great to know the fix that worked for you. Kindly take a minute to share your feedback at Itechguides Community.
Our team and other community members will respond to you as soon as possible.
Want more Windows Server fixes? Finds loads on our Windows Server Fix page.