Introduction
This guide demos 2 methods to change account picture in Windows 10.
Windows 10 displays your picture at the logon page. You may want to add your picture instead of displaying something like this…
Options to Change Account Picture in Windows 10
The two methods to change profile picture in Windows 10 discussed in this guide are:
Change profile picture from Windows 10 settings
Change profile picture in Microsoft Account page
How to Change Account Picture in Windows 10 for Local Users
If you login to Windows 10 with a local account, here are the steps to change your account picture:
Right-click start menu. Then select Settings.
Then at the Windows Settings screen, click Accounts.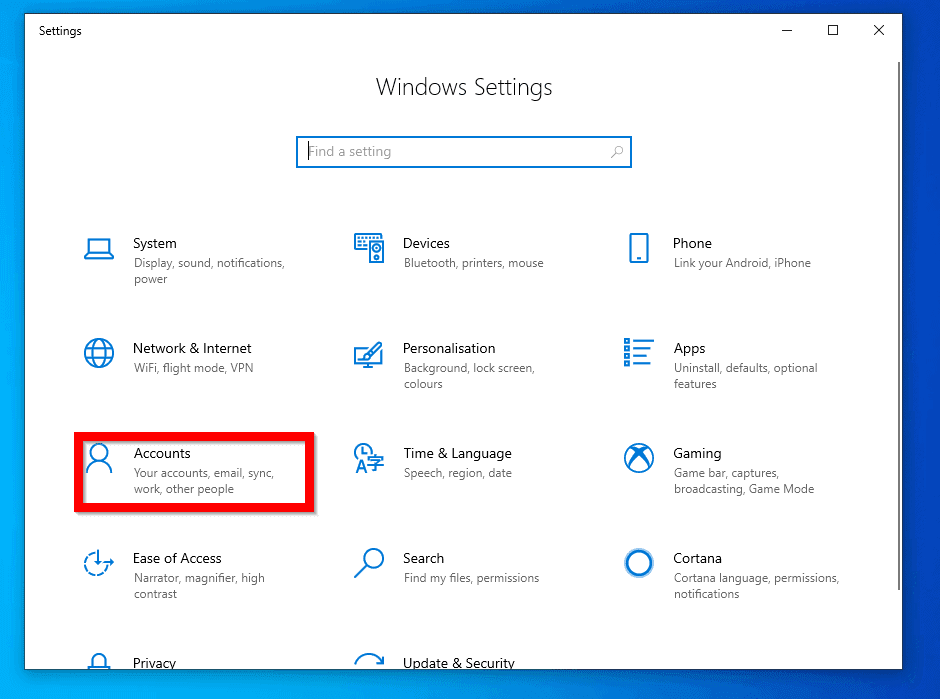 On Your info page, you have two options to add or change the existing picture. You can click Camera and take a picture with the camera on your PC. You could also click Browse for one and select a picture saved in your PC. For this demo I will use the browse option.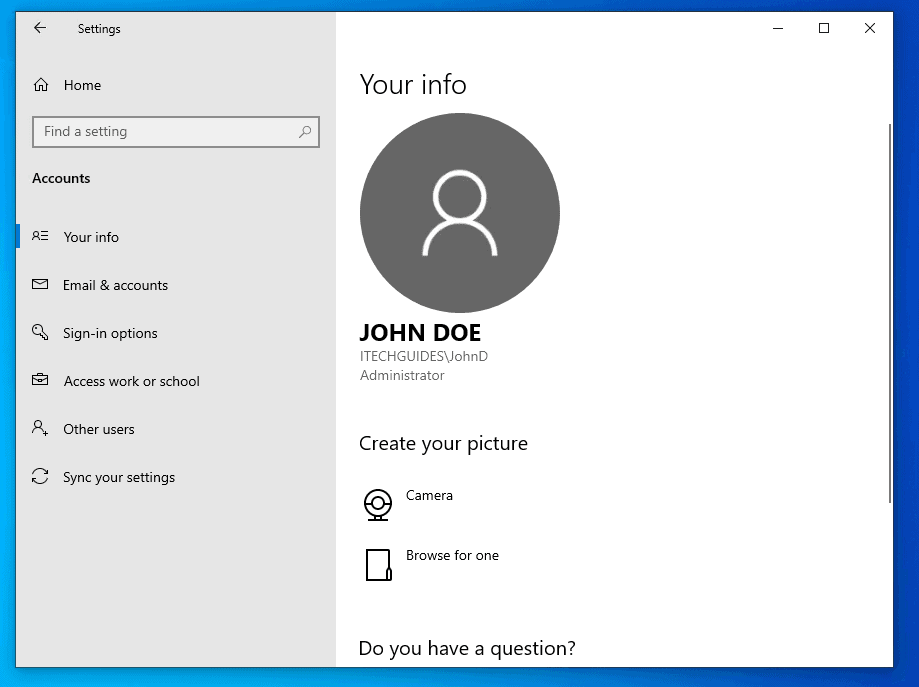 Open the location the picture you want to use is saved and click on the picture. Then click Choose picture.
The selected picture will be uploaded and saved to your Windows 10 profile.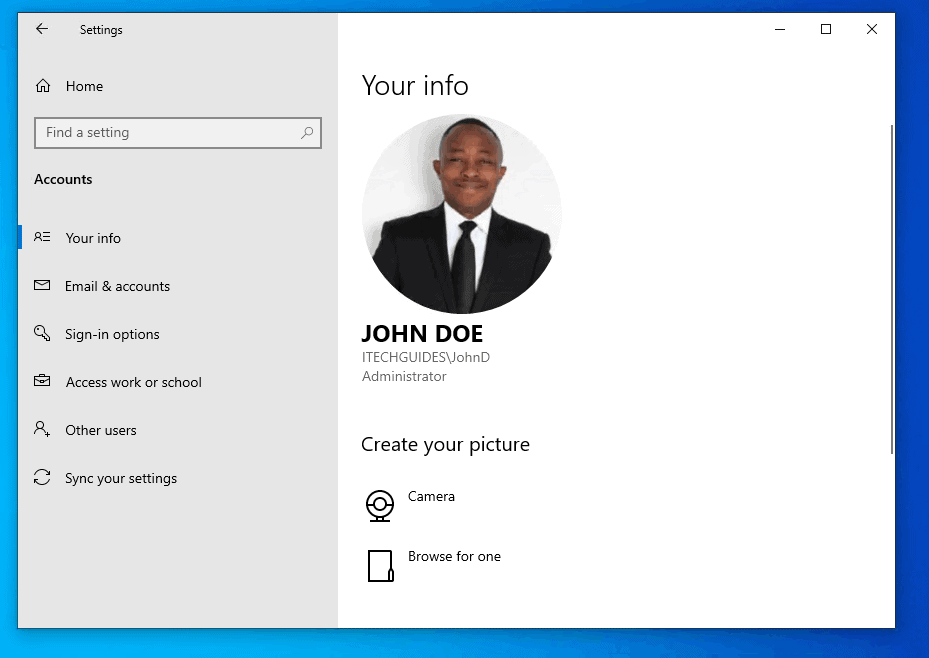 The login screen will now display your picture!
How to Change Account Picture in Windows 10 for Microsoft Account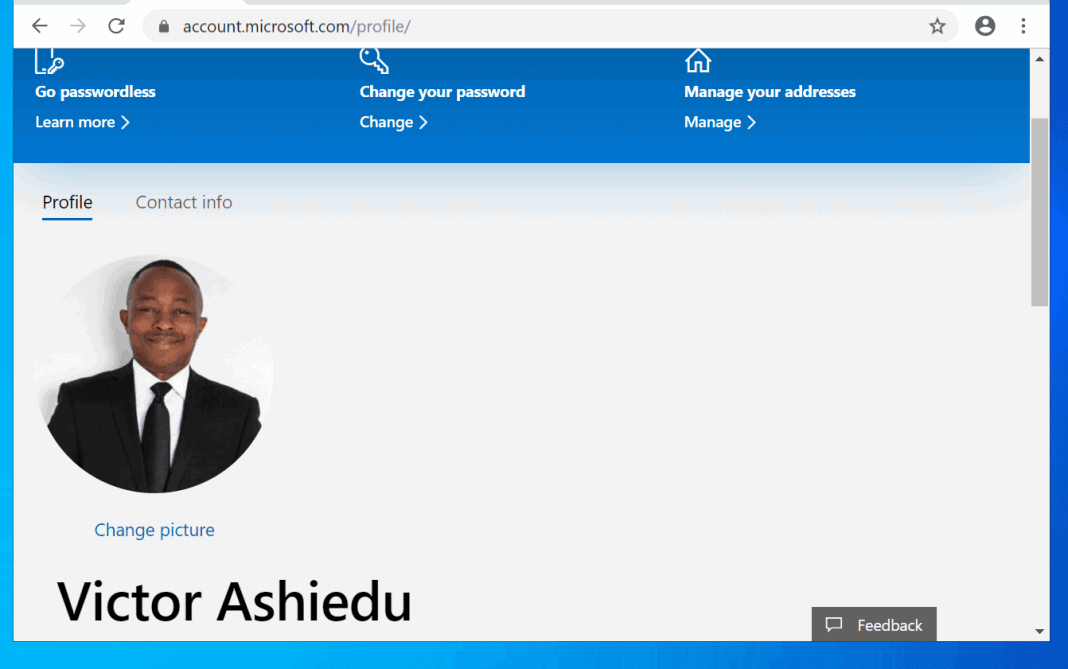 If you login to Windows 10 with a Microsoft account you can change the profile picture from your Microsoft account profile.
Here are the steps:
Sign in to the Your Microsoft account info page. When you click this link, it will load the profile of your signed in Microsoft account. If your are not signed in to a Microsoft account on the current browser, you will be required to sign in with a user name (email) and a password.
To add a profile picture, click Add a picture.
The Microsoft account you use to sign in above MUST be the same account you use to sign in to your Windows 10 PC.
Then click Add a picture again.
Navigate to the location you saved the picture you wish to use and click on it. Then click Open.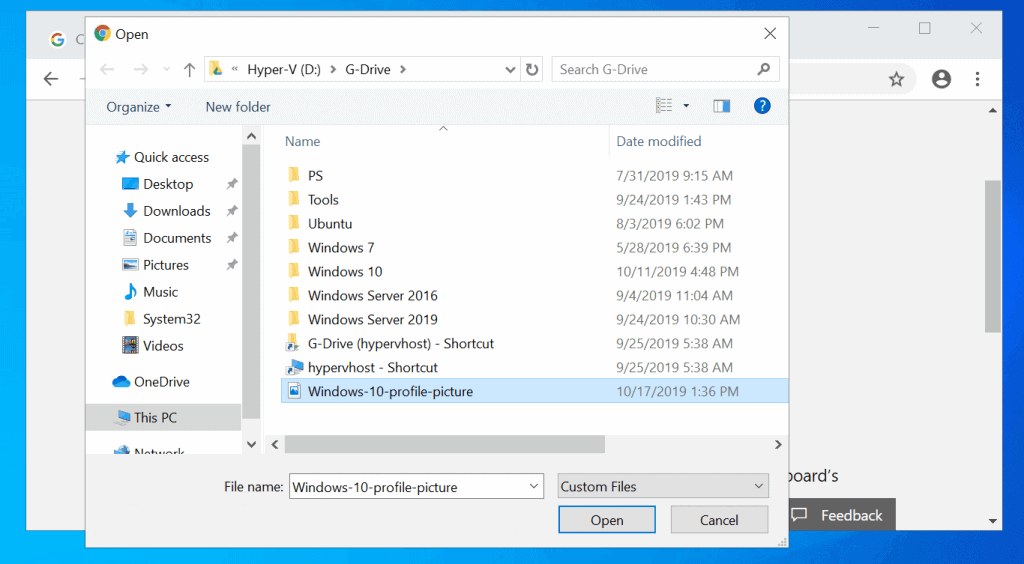 Finally, use the image resizer to adjust the size of the picture. When you are happy with the size of the picture, click Save.
Your profile picture will be updated!
Conclusion
Adding a profile picture to your Windows 10 account makes it a bit more personal. It feels like your own PC! I hope you found the guide useful.
If you have a question comment or feedback, use the "Leave a Reply" form found at the end of this page.
Want more Windows guides? Visit our Windows How To page.