This Itechguide teaches you how to sell books on Amazon. The guide covers 2 steps to sell books on Amazon: 1, open a Seller Account. 2, list the books you want to sell.
Expand "Browse Post Topics" below to go straight to a topic.
How to Sell Books on Amazon: Open a SellerCentral Account
The link above is for Amazon.com (US). If you want to sell your books in other Amazon Marketplaces, after "SellerCentral." enter the last part of the marketplace domain. For example, to sell in Amazon UK, use SellerCentral.Amazon.co.uk, for Canada it is SellerCentral.Amazon.ca…
When the page opens, click Register now.
When Amazonservices page opens, click Start selling. In the next page, you will have the option to either login with your existing Amazon account or create a new account.
If you have an existing Amazon account, enter the email address or phone number for the account in the email field. Then type the password and click Next.
Alternatively, if you do not have an existing Amazon account, or want to create a new Seller account, click Create your Amazon account.
For this Itechguide I will use the first option.
To proceed with registering for a Seller account, Amazon will want to authenticate that it is actually you logging in to the account.
Ensure you have access to the email you used in the previous page. Then, click Continue. If you do not have access to the email address, click Contact Amazon Customer Service link – below the Continue button.
Head over to your email, open the email from Amazon and copy the One Time Password (OTP) sent to you.
If the email is not in your Inbox, check your junk email folder.
Back on the Amazon Seller registration page, paste the OPT numbers. Then click Continue.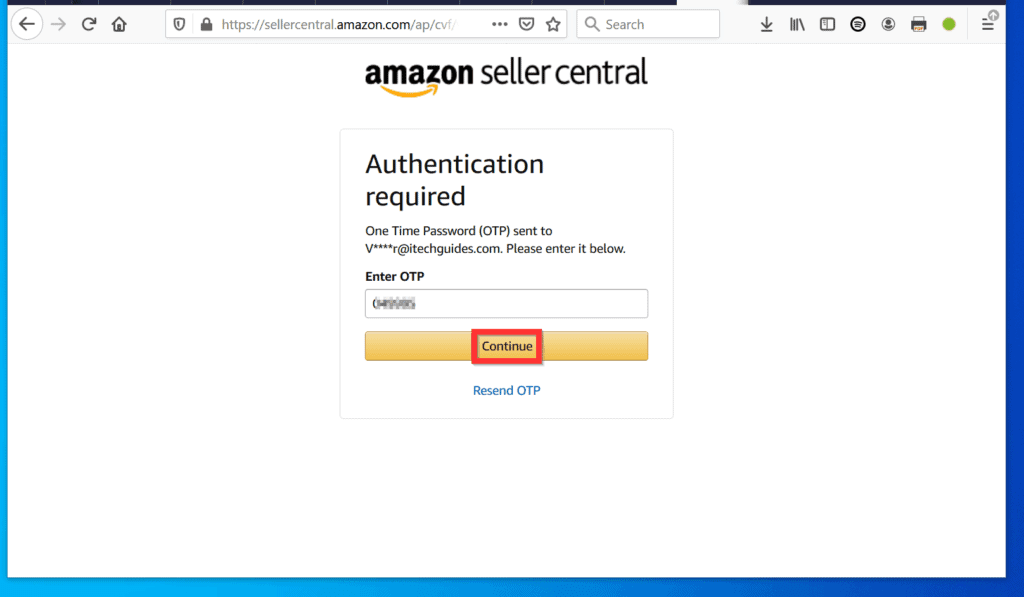 On this screen, Amazon will request you to add a mobile number. This is optional. For this example, I will click Not now.
Finally, before you sell books on Amazon, Amazon will require you to complete some final steps. Note the items you need to complete your Seller account setup.
Then, scroll down below Identity details and select the country your business is located. you also need to select your Business type.
When you finish making your selections, click Agree and continue.
You are close to opening an account to sell books on Amazon but there are still a few steps to get you there – 6 steps!
Depending on the country and business type you selected in the previous screen, the Business Information section (below) may display information different from what my screenshot below shows.
The first step is to verify your phone number. To do this, scroll down to Receive PIN through. The select how you want to be verified and click Send SMS or Call now.
If you selected SMS option, check your phone for the One-time PIN. Then enter it in the pop up and click Verify.
Once you are verified, scroll down and enter the details of the Primary contact person. Then, click Next.
Follow the wizard to complete the other requirements to sell Books on Amazon.
When you get to the verification stage, login to your Amazon seller account and proceed to the next step to list the books you want to sell on Amazon.
How to Sell Books on Amazon: List the Books You Want to Sell
After creating your Amazon Seller account, the final step to sell books on Amazon is to list the books. Here is how you list a book to sell on Amazon…
Open SellerCentral.Amazon.com from any browser on your computer.
Then, at the top right corner of the page, click Sign in.
If you are already signed in to your Amazon SellerCentral account skip this bit.
At the login page, enter the email address and password for your SellerCentral account and click Sign-in.
Once you sign in to SellerCentral, on the top left of the menu, hover over Inventory. Then select Add a Product.
On the next page, you will have the option to find the book (if it already exists on Amazon) or add the book as a product (this is a fairly complicated process!).
The book you want to sell is likely to be on Amazon already. Your first option is to type the name of the book into the search box and click the search icon.
From the search results, locate the book you want to sell on Amazon. Then, click the Select a condition drop-down and select the condition of the book you want to sell.
Once you select the condition of the book, beneath the book condition, click Sell this product. The book details will open in a new browser tab.
Scroll down to the book Offer section of the page.
Enter your price and quantity. Then click the Condition drop-down and select the condition of the book you want to sell.
Once you select the condition of your book, you will be prompted to upload your images. If you select New, you will NOT be prompted to upload an image. I will use this option for this Itechguide.
The next important choice you have to make is how the book will be fulfilled (who will manage the shipping). By default, Amazon will ship and provide customer service (Fulfilled by Amazon) is selected.
If you select this option you have to ship the book(s) to Amazon. If you have a few used copies of the book, select the first option – I will ship this item myself (Merchant Fulfilled). But, if you have so may copies of the book, it may be a great idea to consider the Fulfilled by Amazon. For this guide, I will select option 1.
Once you have selected your book fulfillment option, scroll down to Shipping Options and check all the boxes beside the shipping options you want to offer.
Be careful with your shipping selection. I strongly recommend that you check the actual cost of shipping the book before you select the option. As an example, if a customer pays for the book to ship in 3-5 business days and you fail, Amazon may penalize your account. It is important to select shipping options you can meet.
Finally, scroll down and click Save and finish. It may take some hours for your book offer to become available on Amazon.com.
The next step is to wait for those "your book have sold" emails, ship and start earning!
It is as easy as these 2 steps to sell books on Amazon! I hope you found this Itechguide helpful.
If you did, you could share your thoughts with our community platform at Itechguides Community.
You may also ask questions or make comments regarding this article at Itechguides Community. Our team and other community members will respond to your questions or comments as soon as possible.
Finally, for more Amazon Itechguides, visit our Amazon How To page.