Are you looking to buy a budget smartphone but don't know which to buy? Read this LG Q6 review to discover one.
Itechguides' Take on LG Q6
Summary
At a price of $111.54 on Amazon (as of October 2021), the LG Q6 brings some nice features to the table such as its FullVision display that is perfect for media content. In addition to that, its military-grade tough build is also a good one.
Pros
Drop-resistant design
Camera is fairly impressive
FullVision 18:9 display
Cons
No fingerprint sensor
Rear is cratch-prone
Not water-resistant
This review is a tour of the hardware features and performance of the LG Q6. To deliver on that, I will touch on areas such as its design, display, camera, storage, sensors, and battery.
After discussing each of these areas extensively, I will also include a rating over ten. I strongly recommend that you read this review to the end so you don't miss out on any detail.
My Initial Thoughts
It looks like LG decided to drop out of the modular design race quite early. The brand ditched the modular LG Q5 back to a classical design for the LG Q6 in 2017.
As such, the LG Q6 was modeled after the brand's flagship LG G6. The LG Q5 shares a lot of looks in common with the LG G6 but at a more budget-friendly price tag.
Speaking of the price, as of October 2021 when I published this review the LG Q6 starts at a price of $111.54 on Amazon.
Now that you know these few things about the LG Q6, there are still more things you need to know. Therefore, let us get right into that.
LG Q6 Design, Dimension and Weight Review
At first glance, the LG Q6 actually looks more premium than it really is, you would only realize this when you feel it. When it comes to its dimensions, the LG Q6 measures 142.5 x 69.3 x 8.1 mm.
Meanwhile, the LG Q6 weighs 149 g. For this size, the LG Q6 is fairly easy to handle using one hand, it is very pocketable too.
Thankfully, its weight falls within the weight range preferred by most users. Research has it that most users prefer a phone that weighs between 140 g and 170 g.
In comparison with the LG G5, the LG Q6 is a mini version, however, it is slightly thicker. Speaking of which the LG G6 measures 148.9 x 71.9 x 7.9 mm.
Additionally, the LG Q5 is lighter than LG G6 which weighs 163 g. LG Q5 weighs 159 g.
For color options, the LG Q6 is available in Astro Black, Mystic White, Ice Platinum, and Terra Gold. Hence, users can choose any of the colors that best resonate with their personality.
LG built the LG Q6 with a 7000 series aluminum frame which has nicely rounded corners. The 7000 series aluminum is mostly seen in more expensive phones hence, it is quite commendable to find it in a phone of this price range.
Meanwhile, LG built the back of the LG Q6 out of glossy polycarbonate plastic in a bid to mimic the glass back of the LG G6.
Plastic is less premium than glass but it is more durable and less prone to cracks when it falls. However, the plastic back of the LG Q6 is prone to scratches and smudges.
Therefore, the LG Q6 is bound to get easily messy unless you use a case as soon as you unbox your phone.
Like I hinted earlier, it seemed like the LG Q5 and LG G6 shared the same blueprint but only for the front view. LG has coated the glass front of the LG Q6 with corning gorilla glass 3 which protects it against cracks.
The 5.5-inch display of the LG Q6 is also curved at the corners following the shape of the phone. Also, fairly thick top and bottom bezels dominate the display.
The top bezel houses a front camera, proximity sensor, ambient light sensor, and earpiece. Meanwhile, the bottom bezel houses just an LG branding.
The three navigational controls are located on the screen right above the bottom bezel. That brings us to the end of the front view features.
When you flip the LG Q6 to the back, you will see the slightly curved back panel that sits right in the palms. Surprisingly, the back panel looks quite sparse.
However, the top-left corner houses a single round camera module with a LED flash next to it. There is also an LG logo at the bottom of the case with a rear-facing speaker by the bottom-left.
Moving on to the aluminum-built edges of the LG Q6, the top edge houses a microphone and two antenna lines flanking both sides. Meanwhile, the bottom edge houses a 3.5 mm headphone jack, an antenna line, another microphone, and a micro USB port.
It is disappointing to see LG employed a micro USB and not the modernly accepted USB Type-C.
Moving on, while looking through the front view, the right edge houses a power button and another antenna line. Meanwhile, the right edge houses the volume buttons, another antenna line, and a SIM card tray.
Unsurprisingly, the LG Q6 is not water-resistant and not dunkable. However, it is MIL-STD-810G compliant.
MIL-STD-810G is a military-grade compliance rating which implies that the LG Q6 is drop-resistant. It also implies that the LG Q6 will be able to withstand extreme temperatures, dust, sand, rain, and humidity.
In summary, the LG Q6 is pleasing to the eyes and the aluminum frame is a good one. Also, its corning gorilla glass screen makes it less prone to end up with a broken screen.
Additionally, it is not too large hence it is easy to use and carry around. However, its plastic build makes it score lesser in this category.
That is not just because of its sub-premium quality but because it gets really messy.
Therefore, I will rate the LG Q6 an eight in this design and dimension review section.
LG Q6 Display Features Review
In this display review section, I will be looking at several display features such as the display size, technology, aspect ratio, etc.
For a start, the LG Q6 has a 5.5-inch FullVision display framed by fairly thick top and bottom bezels. Thankfully, the 5.5-inch screen size falls within the size preferred by most smartphone users.
Research shows that most users prefer screen sizes between 5-inch and 5.5-inch.
Also, LG has employed a FullVision 18:9 aspect ratio for the LG Q6 display. This was a 2017 trend that we really love.
The 18:9 aspect ratio implies that the height of the screen viewing area is twice its width. Moreover, the viewing area of the LG Q6 is taller than you will get with a 16:9 standard aspect ratio.
Hence, you will enjoy a broader viewing area for your media content. Also, you will realize that when using a keyboard, it will obstruct fewer contents than a standard 16:9 display.
Moving on to the display technology, the LG Q6 employs an IPS LCD. There are better screen technologies such as OLED, however, it is not uncommon to see an IPS LCD at this price category.
Also, the LG Q6 has an FHD+ display resolution with 2160 x 1080 pixels. Likewise, this is not the best resolution out there, there are better ones like QHD, UHD, and everything in between.
For Instance, the more expensive LG G7 ThinQ has a QHD+ resolution. However, the quality of the LG Q6 is not in any way lagging especially not to the naked eyes.
Furthermore, the display has a pixel density of 442 PPI. This is higher than the 300 PPI standard pixel density and it implies that screen contents will be sufficiently sharp, vibrant, and detailed.
Also, the LG Q6 has a good contrast ratio of 2,179:1 and a black value of 0.24 cd/m². This implies that black colors will appear as true deep blacks and not gray.
Additionally, the maximum screen brightness of the LG Q6 is very high. Therefore, the LG Q6 is sunlight legible – in simpler terms the screen is viewable under direct sunlight.
However, the screen is very reflective and this can affect its usability in sunlight.
Next, the viewing angles are good such that when you view the screen from acute angles, there are no changes in color accuracy or brightness.
Undoubtedly, the LG Q6's display has a lot working in its favor. However, one area it does not excel at is its color accuracy.
The color tends to deviate from the reference color space.
Finally, the LG Q6's screen is coated with corning gorilla glass which gives it protection against cracks. However, you can decide to use a screen protector just to add an extra layer of protection.
In conclusion, having considered all these factors, I will rate the LG Q6 a nine in this display feature review section
LG Q6 Camera Features Review
For the rear camera, LG Q6 uses a 13 MP sensor. The camera has an aperture size of f/2.2 and a pixel size of 1.12-micron pixel.
Additionally, the LG Q6 has a 5 MP front camera. The front camera also has an aperture size of f/2.2 and a pixel size of 1.12-micron pixels.
Additionally, the front camera has a wide-angle capability. It is capable of capturing a 100-degree field of view.
The front camera allows you to capture more content in a frame. It is also capable of taking decent selfies in good light.
However, indoor pictures are less of a success with so much noise stealing the show. Also, the edges are easily pixelated and the color reproduction is below optimal.
Additionally, the front camera is used for the face recognition feature that secures the phone from unauthorized access.
Thankfully, the rear camera takes fairly decent pictures with enough sharpness at the center of the image. However, the edges tend to be soft.
Landscapes and macros have decent details and accurate colors. Focus is quick as well but sometimes you need to tap the viewfinder to ensure that the picture is in focus.
Even in low lights, the camera performance is respectable. There are noises and artifacts but minimal such that you can still make out the details.
For shooting videos, the rear camera is capable of shooting 1080p resolution videos at 30 fps. Impressively, there is a 'steady record' feature in the settings that helps to stabilize your videos using Electrical Image Stabilization.
The camera app is where the LG Q6 nailed it in this category. The camera app is quick to boot from the lock screen.
The app is fast with an easy-to-use interface. it has a Square Camera mode similar to the LG G6.
The Square Camera mode allows you to use half of the screen as the viewfinder for framing and focusing your shots. Meanwhile, you can use the other half of the screen for reference.
The camera app also has a lot of interesting filters. Another interesting feature of the app is dual capture which merges two squared images together.
Overall, the LG G6 camera performance is respectable. But, there are other midrange phones that perform better in this category.
Therefore, I will rate the LG Q6 a seven in this camera features review section.
LG Q6 Battery Life and Talk Time Review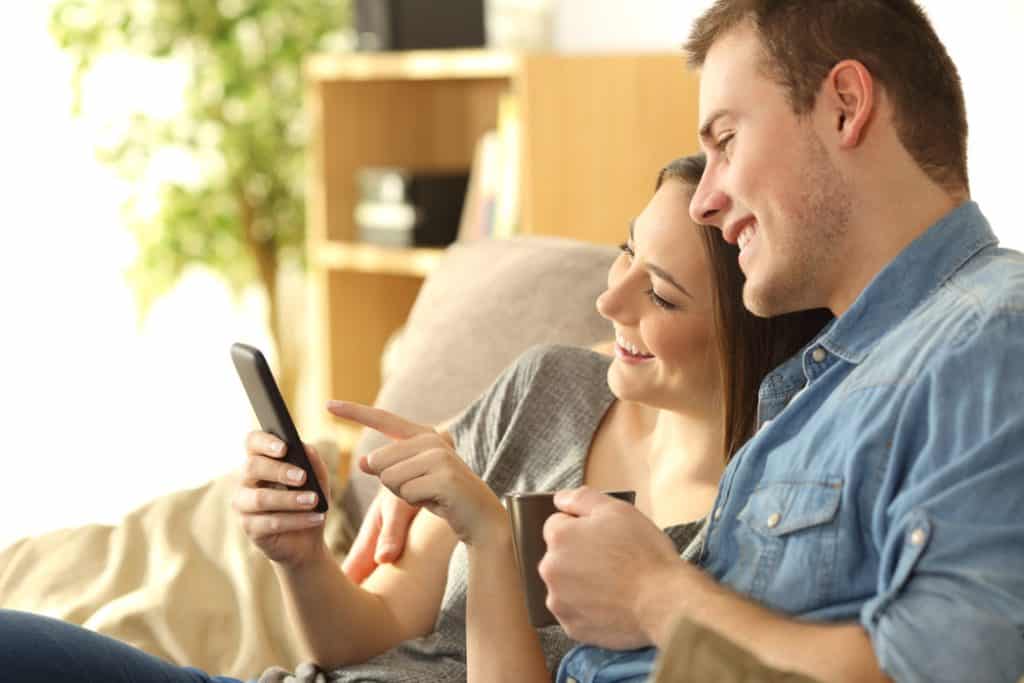 The LG Q6 employs a 3,000 mAh non-removable Li-Po battery as its source of energy. Being unremovable means you don't have the flexibility of swapping out the battery when it is flat or damaged.
Sadly, unremovable batteries are the design pattern that phone manufacturers have chosen in recent years.
On a brighter note, I am impressed by the battery capacity – 3,000 mAh is big enough for a phone of this size. However, the battery life you will get out of this battery is entirely dependent on how you use your phone.
For instance, you will most likely get up to a day of battery life under normal phone usage. However, for more power-intensive activities like gaming or watching movies, you will get significantly less battery time.
According to PCMag.com, the battery lasted 6 hours 45 minutes in a video playback test. The test involved streaming a fullscreen video over an LTE network while screen brightness is set to maximum.
Meanwhile, you will get over two weeks of battery life if the phone is on standby.
When it comes to charging the phone, you are likely to get disappointed. LG bundled the LG Q6 with a measly 6W charging adapter which does not support fast charging.
Consequently, it takes about 2 hours 30 minutes to fully charge the LG Q6 from a completely dead state.
Overall, the battery performance of the LG Q6 is not groundbreaking however, it is a decent one. Therefore, I will rate it a seven in this battery life review section.
LG Q6 Storage Options and Performance Review
On the storage front, the LG Q6 has an internal storage of 32 GB. This is insufficient by modern smartphone standards and it will get filled up in no time.
Moreover, the operating system and pre-installed apps occupy a significant portion of the total 32 GB of space. Hence, this leaves you with less than 32 GB, and most disappointingly, you cannot uninstall most of the pre-installed apps.
On a brighter note, it is possible to expand the storage space using a microSD card of up to 256 GB. This is more than enough space for storing your media files and more.
Unfortunately, the LG Q6 does not support formatting the SD card as internal storage. So, you cannot install apps on the microSD card storage.
However, it allows you to move some applications to the SD card and use it from there.
Although you cannot move some applications to the SD card, the feature is quite helpful. The few movable apps will relieve the internal storage to be occupied by the few dominant apps only.
Finally, I will rate the LG Q6 a nine in this storage options review section
LG Q6 Security Features and Sensors Review
Sensors are the brain box of smartphones. They serve as a listener, detecting changes in the phone's environment and reporting to the processor which consequently provides a response.
All smartphones including the LG Q6 are loaded with some sensors which enable them to do intuitive things. The LG Q6 has the following sensors: accelerometer, magnetometer, gyroscope, light, and proximity.
In case you haven't noticed yet, the LG Q6 lacks a fingerprint sensor. This is a very disappointing omission.
However, the phone's security is handled by a face recognition system that works very fast. Though the facial recognition feature is not perfect, it has been proven to work with a picture of the face which doesn't make it totally secure.
Thankfully, there is a feature called 'advanced face recognition. This feature makes it impossible to fool the system with a picture of the face.
However, this feature does not make the whole process snappy, it takes a while longer. Moreover, it does not work well in poor lighting conditions.
There is also an option that allows you to register someone else's face in addition to yours as well. However, to use this feature, you need to provide a PIN, pattern, or password to authorize it.
Facial recognition is not the only available security option. There are also the more traditional PIN, password, and pattern options for preventing unauthorized access to your phone.
Now, let us discuss the LG Q6's sensors one after the other. Firstly, the accelerometer is used for motion detection, it detects changes in tilt, orientation, and displacement around three axes.
Secondly, the gyroscope sensor measures the speed of rotation of the device along the three axes. Consequently, both the accelerometer and gyroscope work together making it possible for your phone's orientation to change.
Thirdly, there is the ambient light sensor which measures the intensity of ambient light around the phone. In response to this, it regulates the screen brightness accordingly.
For instance, when you are in a dark room, the sensor detects low light intensity and reduces the screen brightness. This is beneficial in two ways.
Firstly, it protects your eye from getting strained. Also, decreasing the screen brightness helps to reduce battery power consumption.
On the other hand, when you are in a bright place, let's take outdoors as an example, the sensor detects the high intensity of light. Hence, it increases the screen brightness to improve the screen legibility.
Next up is the proximity sensor, this is another sensor that helps with power conservation. It works by detecting the closeness of the phone to your face during a call.
As soon as it notices the phones closing up with your face, it switches off the display. Like I said earlier, this is a significant move at improving battery power.
Another advantage is that switching off the display prevents unwanted screen presses that could be caused by the face.
Furthermore, let us discuss the magnetometer. It helps to measure the strength of the magnetic field around the phone.
With this sensor, the phone is able to obtain its direction relative to the earth's geomagnetic field. Consequently, it enables the phone to detect the North and auto-rotate the map and compass.
This feature is useful for apps that require it like compass apps.
Considering the information in the paragraphs above, I will rate the LG Q6 a seven in this security options and sensors review section.
Frequently Asked Questions
1. What Year Was LG Q6 Released?

The LG Q6 was released in 2017, which is about 4 years from 2021 when we published this article.
2. What Is The Screen Size Of LG Q6?

The LG Q6 measures 5.5-inch diagonally which is within the screen size range preferred by most users. Research has it that most smartphone users prefer a screen size between 5 to 5.5-inch.
3. How Much RAM Does LG Q6 Have?

The LG Q6 is equipped with 3 GB RAM, it is not a fast device at handling tasks but neither is it overly sluggish. When multitasking and launching new apps, you might notice a bit of lag.
4. Is LG Q6 Waterproof?

No, the LG Q6 is not waterproof. It only has a military standard MIL-STD-810G compliance rating that makes the LG Q6 drop-resistant. It also implies that the LG Q6 will be able to withstand extreme temperatures, dust, sand, rain, and humidity.
5. How Can I Increase Storage On My LG Q6?

The LG Q6 has an internal storage of 32 GB which is bound to get filled up easily hence, the need to increase storage. Thankfully, you can do this by using a microSD card of up to 256 GB.

In addition to storing media files, the SD card also allows you to store some applications. This is great as it helps to free up more storage space for just the OS and the unmovable apps.
My Final Thoughts
In a good way, the LG Q6 copies a lot from its senior sibling – LG G5. Despite the overcrowded mid-range market, the LG Q6 still manages to stand out with its attractive and military-grade drop-resistant build.
It also has a bright and vibrant 18:9 FullVision screen, and its overall performance is on par for its price category. However, the omission of a fingerprint scanner is costly but I don't think it's worth writing off the LG Q6.
The scratch and smudge-prone plastic back are also justifiably worthy of concern. However, this should not be a dealbreaker since you can easily fix that with a case.
In conclusion, if you are looking to buy a tough functional smartphone without shelling so much money, feel free to consider the LG Q6 as one of your viable options.
I hope you found this LG Q6 review helpful. Want to share your thoughts about this article and LG Q6?
Join the discussion at Itechguides Community. Share your perspective, learn from others, and be part of an engaging conversation today!
For more Smartphone reviews, visit our Smartphone Reviews page. You may also find our Smartphone Specs page very helpful.
References and Further Reading