On June 24, 2021, Microsoft made the first announcement about the release of Windows 11. If you are keen to test it, you can use the steps in this guide to upgrade Windows 10 to Windows 11 beta manually.
As of the time of writing this guide, Windows 11 is only available via the Insider Preview Dev Channel. So, to install the initial build of the preview, you have to join the Windows Insider program Dev Channel.
To upgrade to the new Windows 11 preview, follow the steps below:
1. to Install Windows 11 Beta Manually, Join the Windows Insider Dev Chanel
As I mentioned earlier, the first step to upgrade to the current Windows 11 beta preview build manually is to join the Windows Insider Dev Channel.
Follow the steps below to join the Windows Insider Dev Channel program…
Ensure you are signed in to Windows 10 with a Microsoft account. Then, right-click the Windows 10 Start menu and click Settings.
When Windows 10 Settings page opens, scroll down to the bottom and click Update & Security.
Then, on the left pane of the Windows Update page, scroll down and click Windows Insider Programme.
On the first page of the Windows Insider Programme page, click Get started.
Then, on click Link an account, select your Microsoft account and click Continue.
When the Choose your Insider settings page opens, select Dev Channel and click Confirm.
Then, on the final page, read the privacy requirements and click Confirm. Finally, to complete the joining of Windows Insider Dev Chanel, click Restart Now.
2. Download and Install Windows 11 Beta Manually
The final step to upgrade to Windows 11 beta manually via the Insider program dev channel to download and install the new OS.
Follow the steps in the last section until you get to Windows Update. Then, click Check for updates and wait…
After a while, your PC will start downloading Windows 11 Insider Preview. Wait for the download to reach 100%. Then, proceed to the next step.
Then, when Windows 11 Insider Preview is full downloaded, Windows Update will start installing Windows 11 Insider Preview.
The download will take a while. How long it takes depends on your internet connection. Like the download, the installation will also take a while.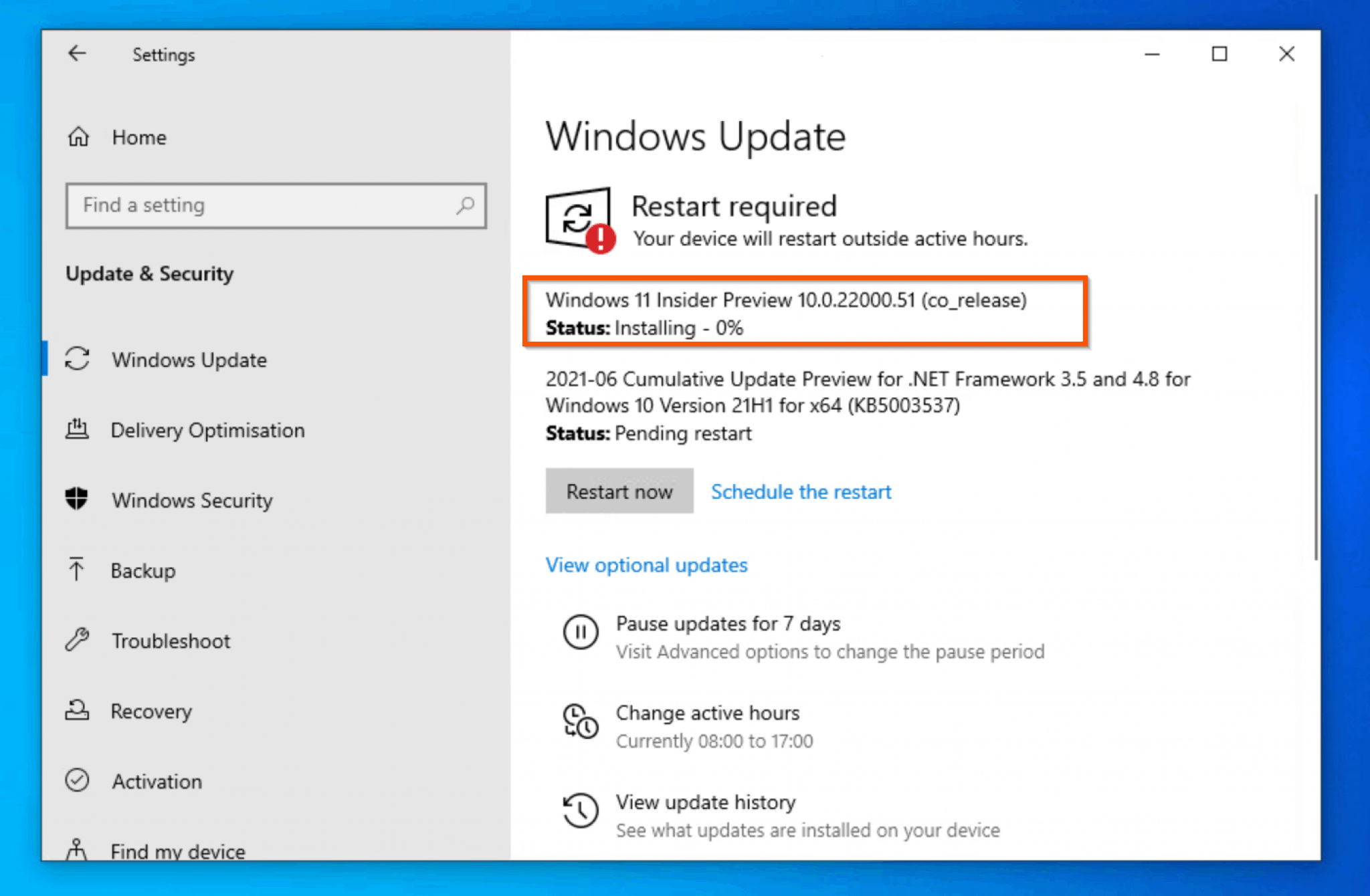 Finally, when Windows 11 beta is fully installed, to install it manually, click Restart now. Then, wait for the installation to complete.
During the installation of Windows 11 beta manual installation, your computer may restart several times.
Frequently Asked Questions About Manually Upgrading to Windows 11 Beta
I hope you found this Windows 11 guide helpful. If you found this guide helpful, kindly spare 2 minutes of your time to share your experience with our community at Itechguides Community.
Also, feel free to post your questions at Itechguides Community if the steps didn't work for you or if you have any questions concerning this guide. Our team and other community members will come back to you as soon as possible with a solution.
Finally, for more Windows 11 Itechguides, visit our Windows 11 How-to page. You may also find our Work from Home page very helpful.