This Itechguide teaches you how to upload MP3 to YouTube. The guide covers steps to upload MP3 to YouTube from a PC.
YouTube supports
specific file formats
and MP3 is not one of them. To upload MP3, you need to convert the file to one of the supported file formats. There are so many ways to do this but this guide covers steps to use a website to convert the MP3 to a YouTube-supported file format. Then upload the file to YouTube via the website.
Here are the steps…
Open Audioship.io (opens in a new browser tab).
Then, on the top left of the page, click Sign in with YouTube. Google Account sign in page will open.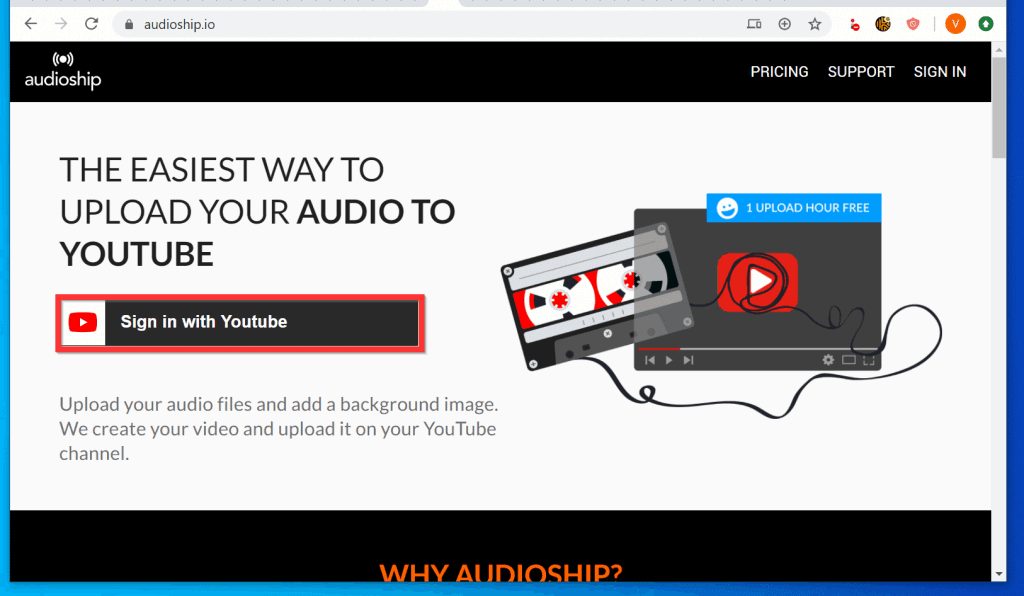 Type the Google email address you use to login to your YouTube Account. Then, at the bottom right of the email field click Next.
On the next screen, enter the password for the Google account and click Next.
If you have more than one YouTube channel in the YouTube account, the channels will be displayed in the next screen.
Click on the Channel you want to upload MP3 to.
Finally, to grant Audioship access to upload to your YouTube account, at the bottom right of the page, click Allow. You will be logged into Audioship.
Before you upload MP3 to YouTube, Audioship needs to prepare the file. The first step is to upload the file to Audioship.io. To begin the process, click UPLOAD YOUR AUDIO.
Then, open the folder you saved your MP3 music file and double-click the file. The file will start uploading. To see the upload progress, scroll down to the bottom of the page.
When the MP3 file is fully uploaded, to upload MP3 to YouTube, at the top right of the page, click POST ALL VIDEOS TO YOUTUBE.
Wait for Audipship.io to upload your files to YouTube. When the files is uploaded, the YouTube URL will be displayed at the bottom of the page.
It is this easy to upload MP3 to YouTube! I hope you found this Itechguide helpful. If you found it helpful, kindly vote Yes to the "Was this post Helpful" question below.
Alternatively, you could ask a question, leave a comment or provide a feedback with the "Leave a Reply" form found towards the end of this page.
Finally, for more Music & video streaming Itechguides, visit our Music & Video Streaming how to page.