Introduction
Amazon Baby Registry allows expectant mothers to create a list of items they need for their baby. Friends and family can then gift items in your baby registry to you.
If you need to know more about Amazon Baby Registry, how it works and whether you should create one, you are in the right place!
I will kick this guide off by explaining how Amazon Baby Registry works.
How Does Amazon Baby Registry Work
Below I have shown how Amazon Baby Registry Works:
You Create a Baby Registry account.
Add items to your registry. You can use the Registry Checklist as a guide (The link may require you to be signed in to your Baby registry)
Share your Registry with friends and family (Link may require sign in to your Amazon Baby Registry).
Friends and family with access to your Baby Registry will access your Registry items, purchase and ship to you.
Complete 3 steps to claim a surprise box of items for parents and baby (optional).
Receive your surprise box from Amazon
Add Diaper Fund to your Baby Registry (optional).
Important Tip
Steps 4 and 5 are NOT a requirement for step 6.
How to Create a Baby Registry on Amazon
To create an Amazon Baby Registry, follow the steps below:
Login to your existing Amazon.com (link opens in a new window/tab) account. If you do not have an Amazon account yet, create one using this link – Create Amazon Account (link opens in a new window).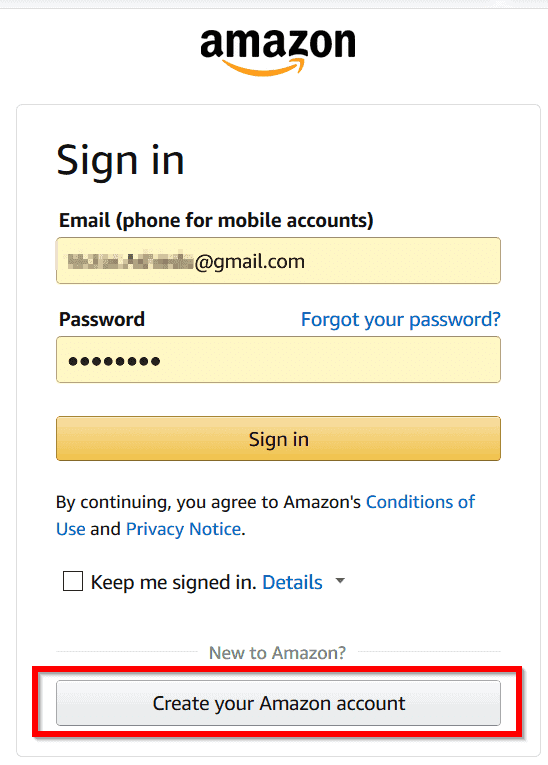 Next, open the Baby Registry (opens in a new tab) page. Then click Get Started.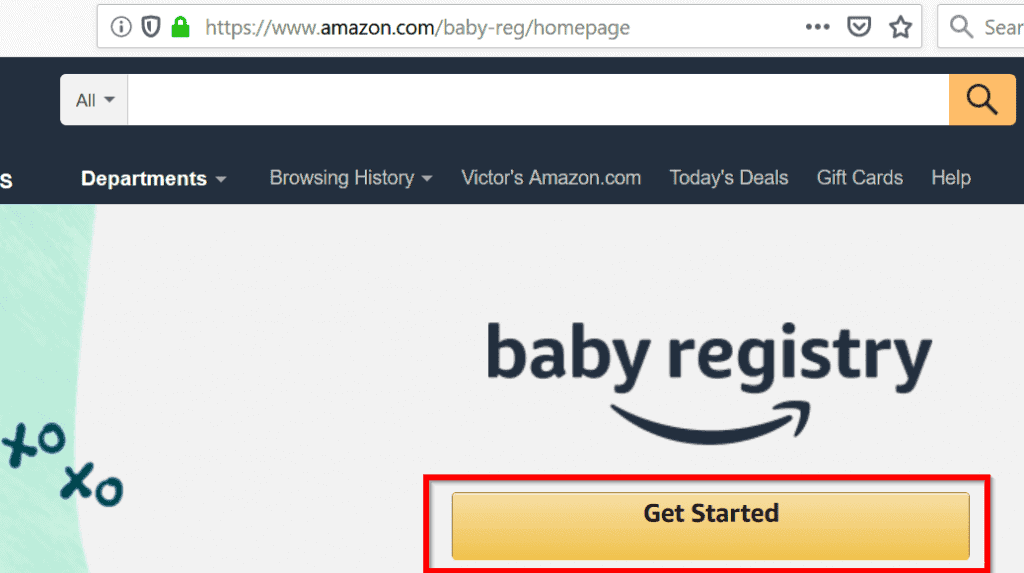 When you click Get Started, the one-page registration form opens. The page is shown below.
To help you decide what options to select, I have explained parts of the form that are not very easy to understand. I skipped parts that are straightforward.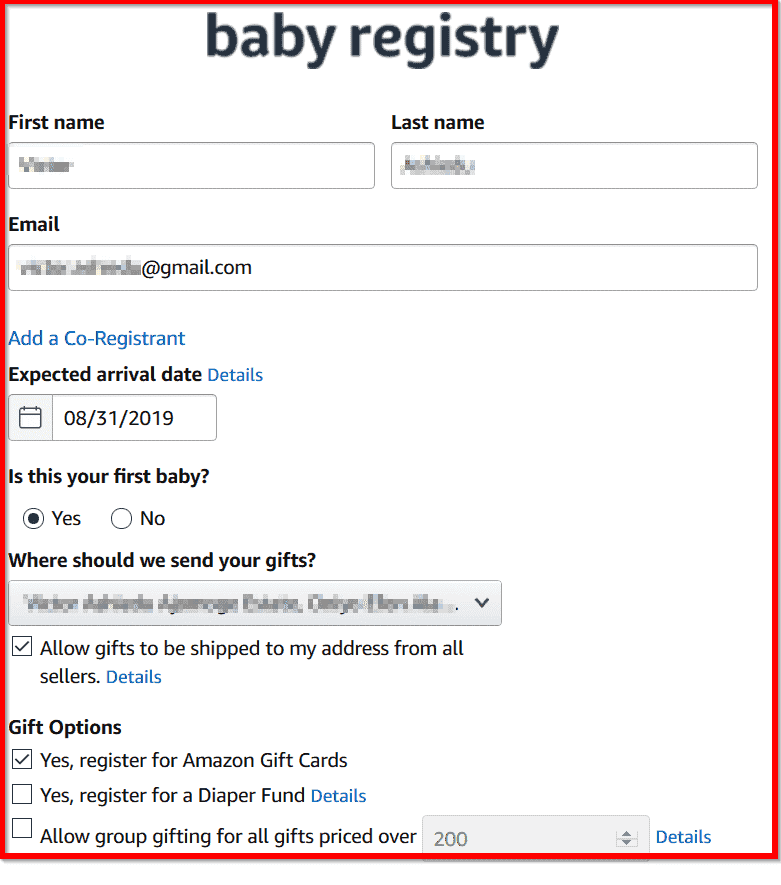 Since you already logged into your Amazon account, your details are auto populated for you.
Add a Co-Registrant: Is another person you can allow to edit your registry from their own personal Amazon.com account. A Co-Registrant could be your partner, husband or wife. To add another person to your registry account, click Add a Co-Registrant. Then enter the person's details – including their valid Amazon account email address.
Allow gifts to be shipped to my address from all sellers: This checkbox is checked by default. Amazon has sellers that sell products on their platform. Checking this box means any product you purchase or purchased in your baby registry can be shipped to you. It is recommended to leave this checked.
Gift Options: If you do not wish to register for Amazon Gift cards, uncheck the box beside it. It is recommended to leave it checked.

Adding a Diaper Fund to your Amazon baby registry allows friends and family to contribute any amount, up to $550 in total, towards diapers.

Finally, you could Allow group gifting for all gifts priced over and select the number from the drop-down.

Who can see your registry?: This option allows you to decide whether your Amazon baby registry public (available for anybody to send you gift). If you check the box beside
Public means anyone can see your registry and be able to send you gift from your registry.
Shared options means people you send your baby registry link can see your registry and send you gifts from your baby registry.
Private means that only you can see your baby registry. Nobody will be able to send you gift from your registry list.
When you finish selecting your options, enter the number beside the Image on the Type characters field. Then click Create my Baby Registry. If all goes well, your Baby Registry page will load automatically. See the image below:
How to Add Items to Amazon Baby Registry
Here are the steps to add items to your new Amazon Baby Registry:
Open the Baby Registry (opens in a new tab) page and login with your Amazon account.

Next, under Add Items, click View Checklist. There are 3 parts of the checklist. Part 1, you select the category – I selected Feeding. Then, under the category, check all the sub-categories. Products in the sub-category will be shown. You may need to scroll down a bit to see the products.
When you scroll down, you could sort the items by Relevance (default), Price: High or Low or Avg. Customer Review. To changing the default sorting, click the Relevance drop-down on the top right corner of the page. To add and item to your Registry list, click Ad to registry.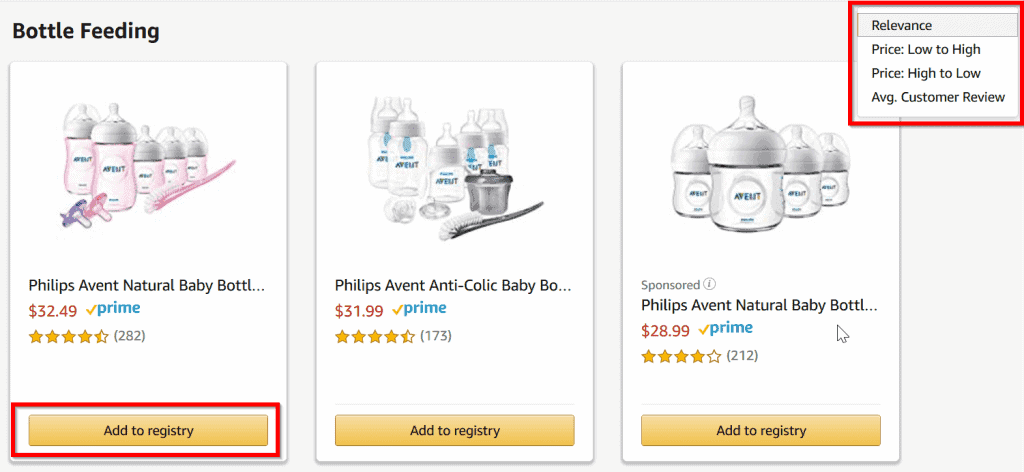 Then item becomes available for people to send to you as a gift.
How to Find a Baby Registry on Amazon
When your Amazon Baby Registry is public, anybody can find it and send items in your registry as gift to you and your baby.
If you have an Amazon Baby Registry and friends and family are asking you how they can access your Baby Registry and send you gifts, send this link to them – How to Find a Baby Registry on Amazon. The link will bring them straight to this part of the guide.
Follow the steps below to find a Baby Registry on Amazon.com
Request the name of email address of the person that owns the Baby Registry.
Open the Baby Registry link on your browser. The Amazon Baby Registry homepage opens. See the page below.
Enter the name or email address of the owner of the Baby Registry you are looking for. Then click Search. The search will return details of Amazon Baby Registries that match your search as shown below:
To access a particular Registry from the search results, click it. Then scroll down the page to see items in the person's Baby Registry. To purchase an item as a gift to the owner of the Registry, click Add to cart. Complete your purchase. Amazon will ship the item to the person that owns the Baby Registry!
What is in the Amazon Baby Registry Welcome Box?
The Amazon Baby Registry welcome box is a surprise with a mix of products. So, Amazon do not send the same items in every box. Otherwise, it will not be a surprise! The box contains sample products for Baby and Mom.
To view the full list of what could be in your Baby Registry Welcome box, click Welcome Box Contents. Please note that the actual content of your box is unknown. The box could contain any of the items listed in the welcome box content link above.
However, the welcome box do not come automatically. To receive the box, you need to meet the following requirements:
Sign up for Amazon Prime (30-days free trial)
Make a $10 purchase
Complete Your Baby Registry Checklist.
Once you meet these requirements, Amazon will send you your Baby Registry Welcome box.
Amazon Baby Registry Coupon Code
The completion discount (Baby Registry coupon) is a discount code you receive on selected items remaining from your Baby Registry list. The discount offer is 10% for primary registrants. Or 15% for members of Amazon Prime at the time they redeem their discount, compliments of Amazon Family.
To see when your Baby Registry coupon will become available, click the Learn more link under Completion Discount section of your Baby Registry.
Conclusion
Amazon Baby Registry gives extant Moms a great tool to prepare for their baby's arrival. Friends and families can be part of your bundle of joy by gifting items in your registry.
If you have any question about Baby Registry with Amazon, use the "Leave a Reply" form at the end of this guide. You could also share your experience so other readers can benefit from it.
Finally, I have left a link below for you to try it out.
Other Helpful Guides
Additional Resources and References