Affiliate Disclosure
If you buy a product via some of the links in this post, as an Amazon Associate Itechguides.com earn from qualifying purchases.
This Itechguide explains NAS (Network Attached Storage).
The guide starts with a detailed explanation of NAS. Then, it explains how it works and ends with its features and benefits.
What is NAS?
NAS is a storage Server device with one or more storage drives connected to a local area network (LAN). Think of NAS as a computer with a bunch of physical hard drives connected to a network.
Though NAS is a server, it has additional advanced tools that make it more suitable as a storage server.
For example, it has some specialized firmware and its own Operating Systems. The hard drives may also have additional power management and vibration tolerance capabilities.
This storage technology support network file sharing protocols like SMB (Server Message Block) or NFS (Network File System) and/or CIFS (common Internet file system).
Authorised network users can access shared drives created on the Network Attached Storage device. It is more like having a Private Cloud in your office.
One benefit of this storage technology is its scalability – you can start with a few drives and add additional drives as your storage need increases. Read more benefits in the third section of this Itechguide.
How NAS Works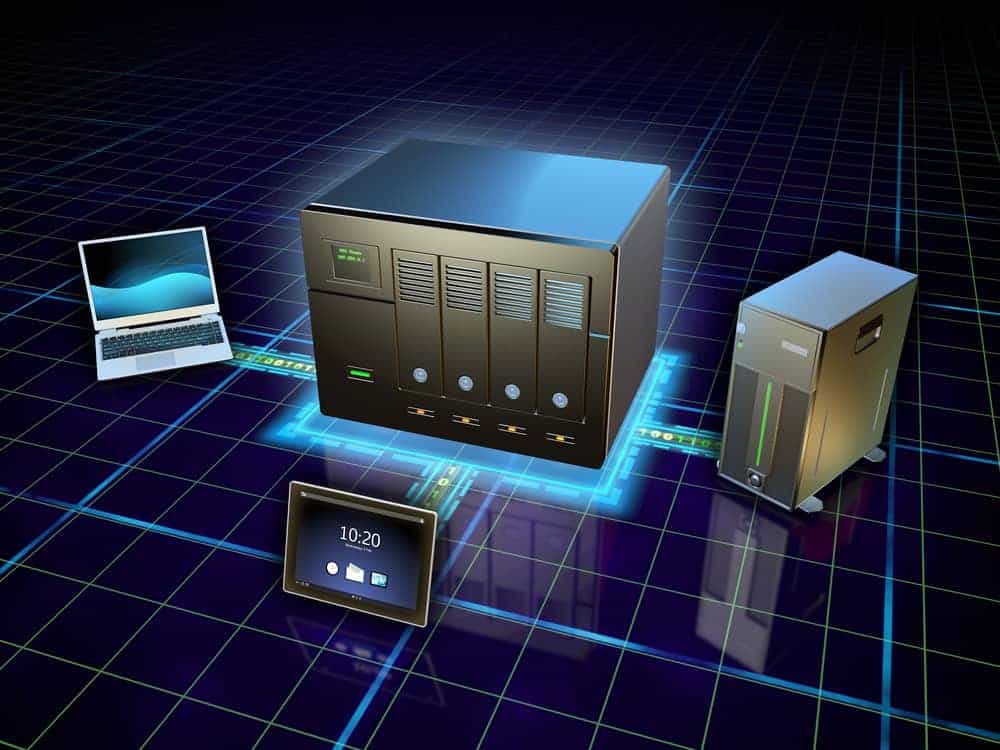 To further understand this technology, here is a very simplified explanation of how it works:
A NAS Server is installed on the network
Shared drives are created on it
Users are granted access to the shared drives
Users access the shared drives from their computer (over the network), save and retrieve files as they wish
Features and Benefits of NAS
In this final section, I will share some of the features and benefits of this storage technoogy:
1. Relatively Lower Cost Compared to a Standard Server
Compared to a server with Direct Attached Storage (DAS), a NAS is relatively cheaper to implement. It costs more to purchase a normal server. It also costs more to maintain a standard server.
However, NAS devices are physically smaller – taking up less space on your server racks and may generally consume less power.
2. Centralized Data Storage with Backup Options
NAS offers a centralized storage for network computers. Compared to storing data on individual computers, it is is safer to store business data on a network share.
Moreover, because your data is stored in a single location, it is easier to backup and restore as needed.
3. Easily Scalable
Network Attached Storage device are easy to scale. As I mentioned earlier, you can start with a few drives and add more drives as your storage needs increase.
Moreover, some of the devices may also support hard drive hot-swapping – you can add more drives to the device without the need to shut it down. This ensures that your users will continue to access data in the existing storage drives while you expand the available disk storage.
The ease of scaling makes NAS both cost-effective and improves productivity. It is cost-effective because the initial cost of purchase is relatively low. It supports your business productivity because you can scale without down-time.
4. Load-Balancing and Redundancy
Most NAS devices will come with built-in load-balancing capabilities. Some of them may also offer some redundancy features like RAID and clustering capabilities.
5. Potential for Improved Performance
Compared to a server with DAS (Direct Attached Storage), a NAS may perform considerably faster for 2 reasons – the hardware is dedicated to storage and does not handle other processes. Secondly, NAS is optimized for file sharing.
However, the performance of a NAS device may be considerably affected by the speed and performance of the LAN. For instance if the network is congested, performance may reduce considerably.
I hope I was able to successfully explain NAS? I also hope that you found it helpful.
If you found it helpful, kindly vote Yes to the "Was this post Helpful" question below.
Alternatively, you could ask a question, leave a comment or provide feedback with the "Leave a Reply" form found towards the end of this page.
Finally, for more Storage tech Itechguides, visit our Storage & Disk Technology Explained page.
You may also find our Work from Home page very helpful.