Affiliate Disclosure
If you buy a product via some of the links in this post, as an Amazon Associate Itechguides.com earn from qualifying purchases.
Samsung A20 Review Summary
Samsung A20 offers 2 rear (main) cameras and 1 front (selfie) camera with excellent features. Its internal storage limitation - 32 GB - is compensated by its micro SD card offering up to 512 GB. Additionally, its 4000 mAh battery delivers up to 26 hours 3G talk time with fast charging capabilities. Overall, Samsung A20 is a great phone.
PROS
1. Dual rear camera
2. Excellent battery life
CONS
1. Low display resolution (HD+)
2. Low internal storage (32 GB)
Add your review
This is our expert Samsung A20 review. The laptop is rated in the following categories – Display, Camera, Battery, and Storage options.
In the second section, you can get the full specs of the phone and latest available deals.
Finally, you have the option to rate the phone.
Samsung A20 Display Features Review
I start this Samsung A20 review with a look at the display features offered by this sleek Samsung phone.
The first display feature that stands this phone out is its Super AMOLED display technology. This is a proprietary AMOLED display technology available on Samsung phones.
What makes this display technology unique is the way the touch screen is designed. The conventional touchscreen display has a layer on top of the screen that recognizes touch. However, Super AMOLED integrates the touchscreen layer into the screen itself. This makes the touchscreen respond better and offer an excellent user experience.
With all the hype about the display technology, one would expect this phone to offer a better display resolution. Unfortunately, the best Samsung A20 could offer is HD+ (720 x 1560). However, except that you are a display savvy, you may not necessarily notice the difference in display quality. Having said that, HD+ resolution is far below 4K resolution.
Samsung A20 Camera Features Review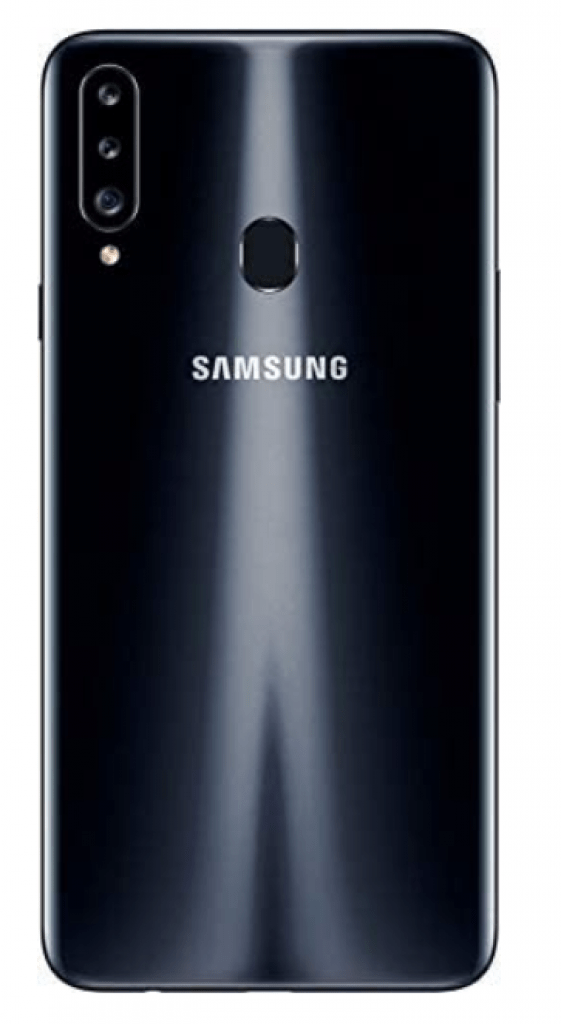 The next feature in my Samsung A20 review is a look at the features of the cameras offered by this phone.
To gain market share, phone manufacturers are seriously ramping up the cameras offered by their phones. The good news is that Samsung A20 is not lagging in this area. It may not necessarily be in the top of the list for camera. However, with its dual rear cameras, it sure is a phone that competes well.
The dual rear cameras are rated 13.0 MP, ƒ1.9; 5.0 MP, ƒ2.2. If you don't care about tech specs, I wouldn't blame you – they are confusing sometimes. However, I can tell you that these camera specs are far better than the specs offered by most phones in its league. The dual rear cameras on this phone will take exceptional photos even at night.
Moreover, the dual rear camera is not all that this phone has to offer. It also has a great front (selfie) camera rated 8.0 MP, ƒ2.0. Like its main camera (rear), the features of the selfie camera is far better than most phones in its league.
Samsung A20 Battery Performance Review
I cannot offer a complete Samsung A20 review without rating the battery features. As we load more and more apps on our phones and depend on it to work more like a computer, we need stronger batteries. After all, all other features will be useless without a strong battery!
In the battery department, Samsung A20 is not bad. If you are not put off by tech specs, you may be comfortable with me saying that the phone has a 4000 mAh, non-removable battery. However, if you are like most users, you may just want to know how long the battery lasts after a full charge.
According to Samsung's advertised information, Samsung A20 will typically last up to 26 hours of 3G talk time. This is not surprising for a phone with a 4000 mAh battery.
Lastly, it will be fair to mention that this phone has a non-removable battery. We consider a phone with a non-removable battery a disadvantage because if the battery stops working you cannot easily replace it.
Samsung A20 Storage Options Review
Finally, in my Samsung A20 review, is a detailed look at its storage options. The storage options offered by a phone is as important as the display, camera, and battery.
Fortunately, Samsung A20 offers some exciting storage features. With an internal memory of 3 GB, it will perform tasks fast.
This is not all that this sleek Samsung phone has to offer. It also comes with an internal storage of 32 GB. By all standards, 32 GB storage is disappointing. However, the phone compensates for this limitation with its up to 512 GB microSD Card Support.
The microSD card memory does not come with the phone. You have to buy it separately.
Samsung A20 Specifications & Deals
This section offers the full product specification for Samsung Galaxy A20 and latest available deals.
[woo_offer_product]
I hope you found this Samsung A20 review helpful? If you found the review helpful, click Yes to "Was this post Helpful?" below.
You could also review this product with the "Leave a Reply" form found at the end of this page.
For more Smartphone reviews, visit our Smartphone Reviews page. You may also find our Smartphone Specs page very helpful.